Learn more and request your appointment below!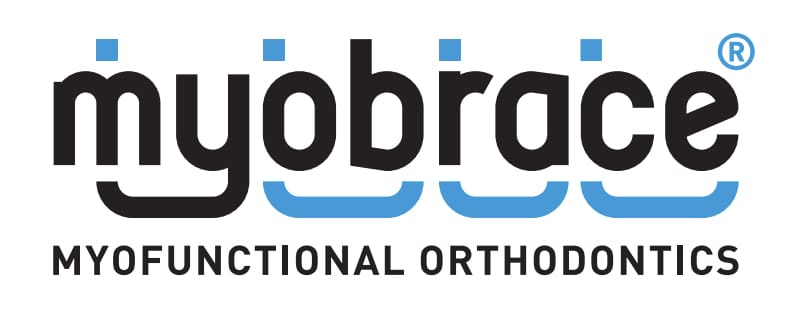 The Myobrace is an innovative preventive orthodontic treatment that addresses the root causes of crooked teeth in children. The Myobrace system comprises a series of devices that are worn inside the mouth for a short time during the day, and also overnight while sleeping.
It is designed to correct orthodontic problems without the need for braces or tooth extraction. It instills good oral habits in children when they are still relatively young, promotes proper jaw alignment, straightens the teeth, and improves a number of other aspects connected to oral health including breathing and swallowing.
How does the Myobrace Work?
The Myobrace treatment consists of a series of different intra-oral devices that are worn by the patient that each serve a different function. Patients wear the Myobrace devices for approximately 1-2 waking hours as well as overnight.
These devices counteract poor oral habits which are often evident before the permanent teeth have emerged, and lay the foundation for proper oral health and teeth alignment in the future.
The first device teaches children to breath through the nose and rest their tongue correctly on the palate. Another widens the jaw to allow for proper arch development, creating sufficient space for the permanent teeth grow in. A third device aligns the permanent teeth correctly once they begin to erupt.
Finally, the last stage of the Myobrace treatment works to maintain proper alignment without the need for a permanent retainer.
What is Preventitive Orthodontic Treatment?
The Myobrace is intended as a preventive orthodontic treatment, which means when used properly it will correct a variety of orthodontic issues before traditional orthodontic treatments such as braces are necessary.
Because children must wait until all of their permanent teeth come in before being fitted for braces, many times they have suffer from misalignment that has already caused irreparable damage that the braces won't be able to fix. Rather than straightening the teeth after they've already grown in crooked, the Myobrace works to prevent the factors that lead to crooked teeth and jaw misalignment before the damage is done.
How will the Myobrace impact my child's oral health?
The Myobrace treatment can help ensure that your child's teeth grow in straight without ever needing to use braces. In addition, it can improve overall facial development and encourage children to practice proper breathing habits for the future.
Treat our patients the way we like to be treated
Educate ourselves by earning continuing education credits
Invest in the modern technology and supplies
Challenge ourselves and our team to be the best
Attaining the smile you've always wanted is as important to you as it is to us, and helping you affordably achieve that smile is our main goal. Our qualified financial team will do everything to ensure that expense does not prevent you from receiving the quality care you need and desire. Please contact our friendly staff to learn more about Insurance & Billing.
With professional dental services, a comfortable environment, and welcoming care, our team want to help you make those remarkable moments in your life shine brighter with your smile.
Flexible Financing Options
---
Our qualified financial team will do all it can to make sure that expense does not prevent you from receiving the quality care you need and desire. We have developed different financial options to help you facilitate your goals.
We serve the great people of our community. We look forward to providing you with the professional, progressive dental care and customer service our patients have come to expect.
We are so thankful to have such amazing patients who have taken the time to share their experiences on Google, Facebook, and other online sources.
"Dr Dan and his team are professional and personable. Every step was taken to ensure your safety during these new normal times...
Sheri S.
Review on Google
"I recently had a great visit with Dr Chan. He is very thorough and gentle and the staff are very attentive as well."
Valerie B.
Review on Google
"I have been going to Credit Creek Dental for years. The service and care I have received has been exceptional. The staff are friendly and professional. I highly recommend this dental office!"
Kathy G.
Review on Google
Contact our Friendly Staff Today!
---
163 First St, Orangeville,
ON L9W 3J8
Monday: 9:00am - 5:00pm
Tuesday: 9:00am - 6:0pm
Wednesday: 9:00am - 5:00pm
Thursday: 9:00am - 6:00pm
Friday: 9:00am - 3:00pm
Saturday: Closed
Sunday: Closed
© 2023 Credit Creek Dental